You definitely don't see many trucks painted in this color.
---
The 1956 Ford F-100 is very special for truck collectors with a timeless design that only existed for that single model year. This particular F-100 is even more special since it's a custom restomod painted in one of Ford's most recognizable colors, and it will be up for grabs later this month through Pacific Auction Companies.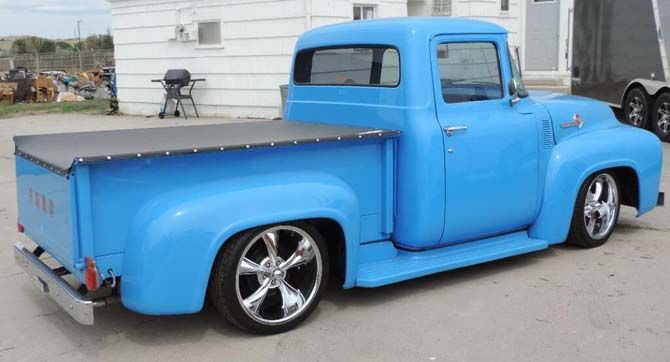 It's easy to spot a '56 Ford with its vertical A-pillars and wraparound windshield, but you won't be able to miss this truck wearing a gorgeous coat of Grabber Blue paint. The body and paint look incredible on this truck, and the lowered stance is perfect with those five-spoke chrome wheels and wide running boards. The interior is a little more restratined with a conventional bench seat, but the iconic blue hue blends in wonderfully and aftermarket gauges add a modernized touch.
Tilt the custom hood forward to reveal the heart of this restomodded pickup: a 302 cubic-inch V8 with a roller cam. This engine is matched with an automatic transmission that sends power to the rear tires through a nine-inch rear end, and the addition of power steering, power brakes and air conditioning mean this truck is one serious cruiser.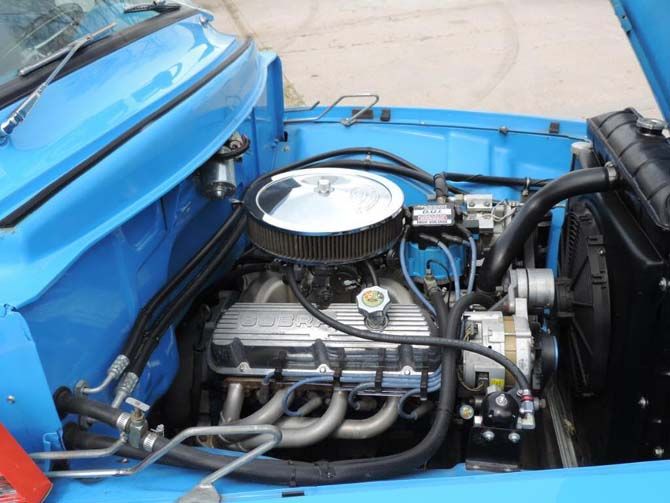 This custom 1956 Ford F-100 restomod was just one among many classic vehicles that had been collected by the founder of the Wyoming Auto Auction in Cheyenne, Wyoming over the last 80 years. The Sam's Auto – A Lifetime Collection auction will take place on Saturday, August 29th where it will be among more than two dozen classic and collectible cars and trucks up for grabs ranging from show-ready (like this F-100) to restoration-ready.