---
Our good friends over at Corvette Mike are no strangers to high-end Corvettes. They've been buying, selling, and consigning ZR1's, L88's, Tankers, Z06's, and more for over 40 years now. Adding to that impressive resume is this ultra-rare 1967 L89 coupe that's currently on its way back to Corvette Mike's Anaheim, CA. facility.

RPO L89 added aluminum cylinder heads to the already potent L71 427/435hp engine. The lightweight cylinder heads took roughly 75lbs off the front of the car resulting in a lower center of gravity, better rear weight bias, and an improved overall power to weight ratio. Horsepower was listed at 435 which was the same as the more widely known 435hp L71 engine, though the L89's aluminum heads had larger exhaust valves yielding more airflow. Estimated horsepower for L89's is in the neighborhood of 500. In the end, just 16 L89 Corvettes were produced in St. Louis for the 1967 model year. That's rarer than a seven-figure 1967 L88!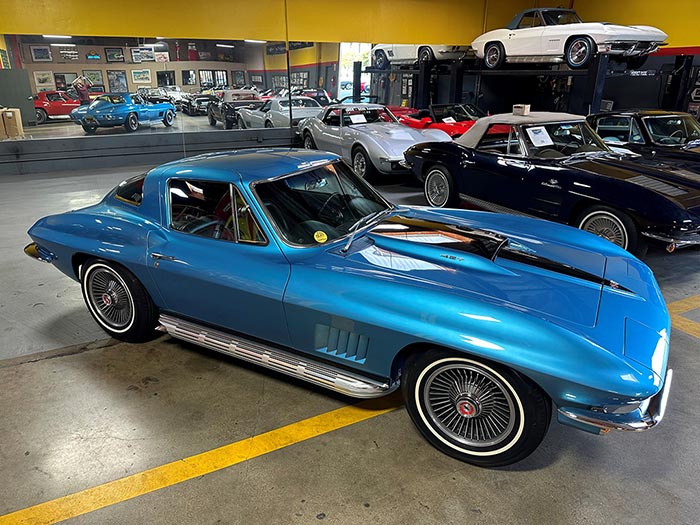 This award-winning Sting Ray was built on the last day of 1967 production, July 11, 1967, just 32 cars from the end of the C2 generation. Many consider this car to be the best 1967 L89 out there, Ask Mike and he'll tell you "it's best 1967 Corvette period", given it's top level restoration and the fact that it's recent validation of its tank sticker by NCRS and it's original engine power plant puts it in a league, well with The ex-Ries Stradivari violin from 1693, all alone!

It was initially delivered to Cochran and Celli Chevrolet on July 28th, 1967, and purchased by Donald Stankovsky of Berkeley, CA. Being a California car makes it 1 of 2 such L89's with the K19 smog equipment. Of those, this is the only one known to exist today. From there, it found its way into the hands of several caretakers before being acquired by Chris Marcom's Southwest Corvette Collection in Frederick, Oklahoma. In November of 1987 it was sent to the famous Naber Brothers in Houston, Texas for a comprehensive body-off restoration. Most recently, the car spent the last 29 years with well-known collector Larry Martin before Corvette Mike's June 2023 acquisition. As you read this, this amazing C2 is en route back to Southern California for the first time since the mid 1970's.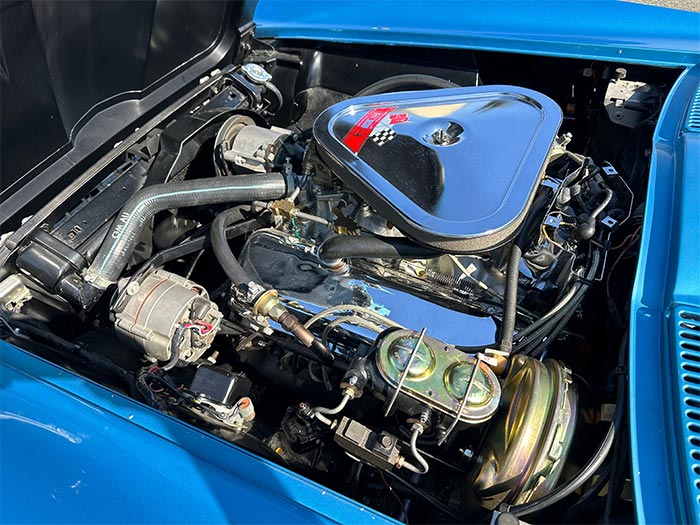 The Marina Blue C2 is decked out with all the most desirable options. In addition to that thumping, matching numbers L89, it features a black leather interior, F41 sport suspension, N14 side exhaust, K19 AIR (smog) pump, and power brakes.

Many consider this car to be the best 1967 L89 out there. Given its recent 98.4% NCRS Top Flight at the Texas Regional, it's hard to argue with that statement. That stout score came almost 34 years after its last outing in 1989 at Cypress Gardens, Florida, demonstrating just how well this car was restored and carefully preserved since.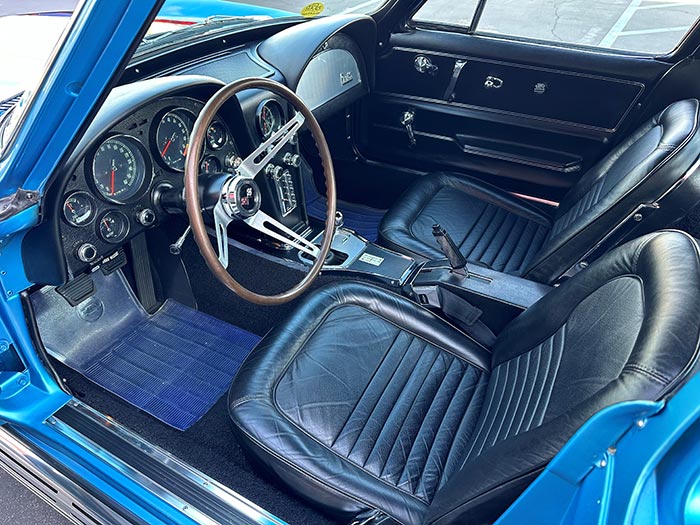 Documentation is critical with these unicorn Corvettes and this Sting Ray has a stack of it. Paperwork includes a NCRS-validated tank sticker, the original dealer invoice, and the original Protect-O-Plate.

If you've never seen one of these legendary Corvettes up close, then consider heading out to Las Vegas where you can peep this one at the Wynn Concours. The 1-day event runs this weekend on Saturday, November 11th at the 5-star Wynn Las Vegas resort. This L89 will be nestled in with other classics in categories such as American Classics, British, European, American Postwar Sports and Sports Racing, Hypercars, and more.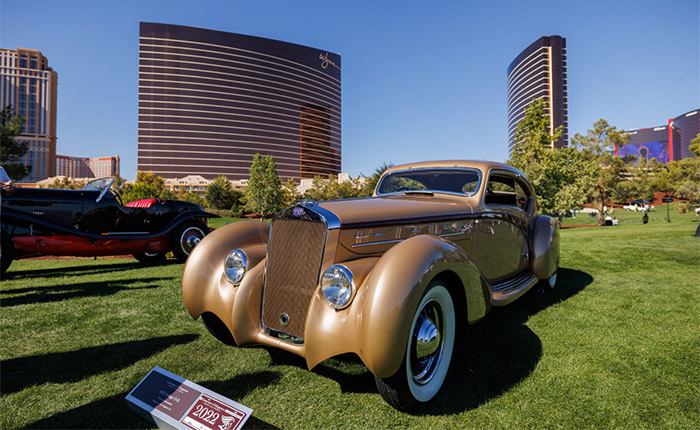 Join Corvette Mike at the Wynn Concours d'Elegance
Click here for more information on the Wynn Concours and keep an eye out on the Corvette Mike website for more on this iconic C2 Corvette.