These trucks are pretty hard to find in the states but this guy managed to find four of them!
---
Toyota is a funny automotive manufacturer because it can be challenging to find a modern example that doesn't perfectly embody the spirit of a grandma car. For many enthusiasts, particularly American enthusiasts, it's terribly difficult to understand the hype around these cars. However, the brand's history indicates that Toyota once cared deeply for performance and fun driving. You may think of vehicles like the Supra or MR2, but we're talking about a type of vehicle rarely discussed in the JDM world. That specification is a vehicle meant to be taken where many drivers dare not go: off road. Here's probably one of the most exciting collections of Toyota off-roaders we've seen so far owned by everyone's favorite diesel-loving hooligan, Whistlin Diesel.
Watch the latest Motorious Podcast here.
Lined up in the shop under a set of black tarps is a gathering of vehicles deemed incredibly valuable within the offroading and JDM communities. Four Toyota Hilux pickup trucks line the compound wall, making fans of utility and mud sliding smile with glee. One of these trucks even had an old 8-track player/cd changer from the '80s or '90s. According to a semi-expert on these trucks, that equipment was likely worth around $1000. Before even hearing this, Whistlin Diesel took it upon himself to smash it on the ground like the caveman he is. As is the moniker of most truck enthusiasts with a passion for hard acceleration, jumping mounds of dirt, and general offroading chaos, we like breaking stuff. However, you won't find much else broken on the trucks themselves.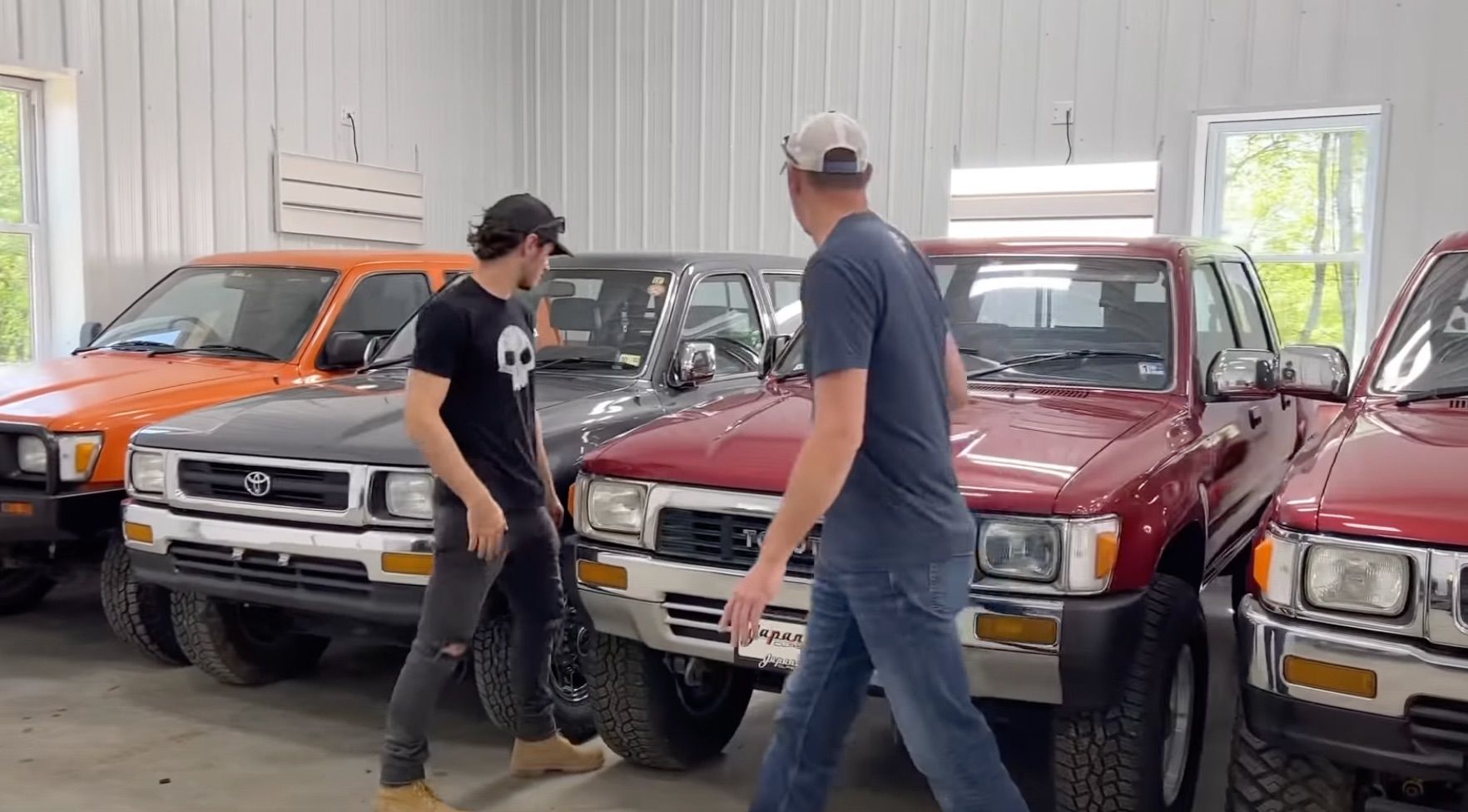 The exterior of the Hiluxes has been kept in pretty excellent condition, with one or two having experienced only wild abuse from the man himself. Outside of one truck being used as a daily driver for a little while, the condition of these vehicles has remained intact. It is, of course, only a matter of time before the crew begins tearing into the trucks for modification, as one already sports a new snorkel. This is best represented by the aforementioned 8-track execution, which may well reflect these vehicles' future, but that's what they were made for. The funniest part of this whole thing is that these are apparently really hard to find, but this guy found four of them in a ten-minute internet search. It's almost like these were made to be part of the Whistlin Diesel experience.