Alexa shows that Motorious now outranks many major online publications.
---
A Press Release sent out this morning confirms that Motorious.com pulled ahead of competing websites in popularity as a collector car site, as sourced by Alexa Rank. Alexa is an Amazon-owned system shows that Motorious.com is now the most popular car collector site in the United States. Motorious is a unique site that works with some of the biggest names in automotive sales in the world to curate a prestigious classified section, while also running as an automotive online publication.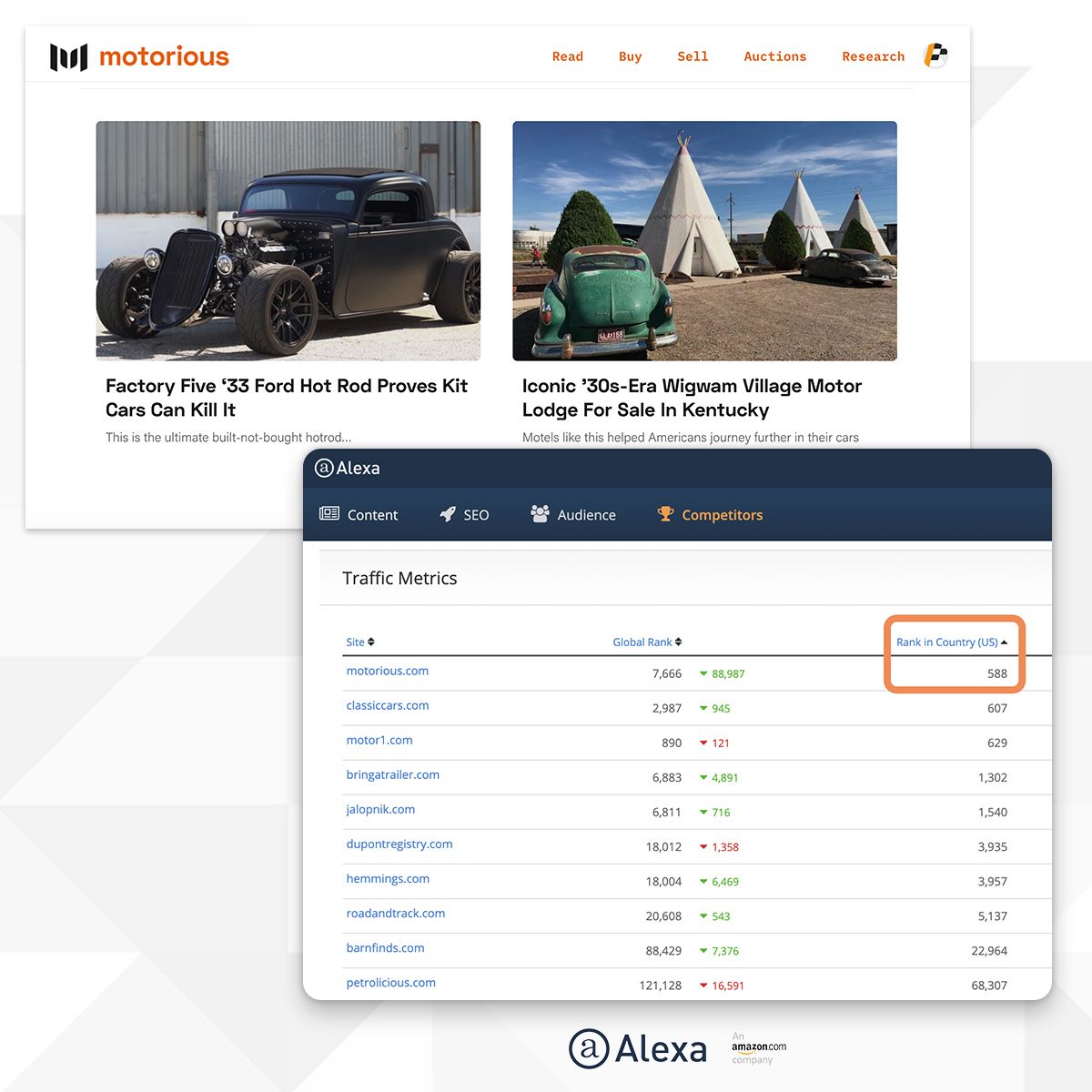 Like golf, the lower the rank, the better, so Motorious' 588 places it in a great spot, beating it's closest competitor with a score of 607.
"I'm proud of what the Speed Digital and Motorious team has accomplished in a short time-frame," said Speed Digital CEO Neil Pitt. "The combination of dealer only classified listings and engaging collector car content is proving to be a winning recipe. Our network in the collector car hobby is our most valuable asset and is reaping significant benefits for our clients."
This good news comes only a few months of the relaunch of Motorious on a new platform, after a blackout of content in 2019 essentially caused the site to start over. Since the new site/platform went live in the winter of 2020, Motorious staff have put a major focus on covering a wide range of hobby segments, and the news that surrounds them.
Despite COVID-19 shutting down the events Motorious would usually cover, a shift in focus to covering cancellations and events moved online landed with readers. As a result in interest, Motorious is now hosting online auction events, as well as an online car show that gives readers a chance to win $1000 by sharing their rides.
Motorious is a team formed of experts from Speed Digital, and automotive journalist, dedicated to the site. The combination of teams brings a unique perspective and authority to the content on Motorious.com.
See the full Press Release here.