Corvette speed made her day!
---
Audrey Matheson was born in 1922 and married for over 50 years. She pictured her 100th birthday as a quiet day, surrounded by family and friends, doing something simple and relaxing. Instead, a car club made her decades long dream come true of riding in a red Corvette.
Watch the latest Motorious Podcast here.
"Well, I never thought I'd live this long, I'm amazed myself," said Audrey Matheson.
Audrey said she was somewhat of a trouble maker in her younger days, and said she didn't have all the answers at the age of 100. "If I was good at advice, I would have taken it myself," said Audrey.
Her birthday was full of firsts, even getting to meet a kangaroo and the local firefighters.
"They wanted me to celebrate to the hilt, so I guess that's what we're doing," said Audrey.
Her cargiver asked her what are some things she's always wanted to do, but never had, "I asked her if there was anything she wanted to do before she died and she told me to ride in a red Corvette convertible," said Nicki Reyes with Girl Friday. "So, I reached out to a local Corvette club to see if they could help make that happen."
After a visit with some animals from the Wildlife Foundation, and a visit from the Scottsdale Fire Department, the biggest surprise was when the east Valley Corvettes club pulled up. Navy man Jim Dunkelberger asked her if she wanted to go for a ride in his red Corvette, and off they went.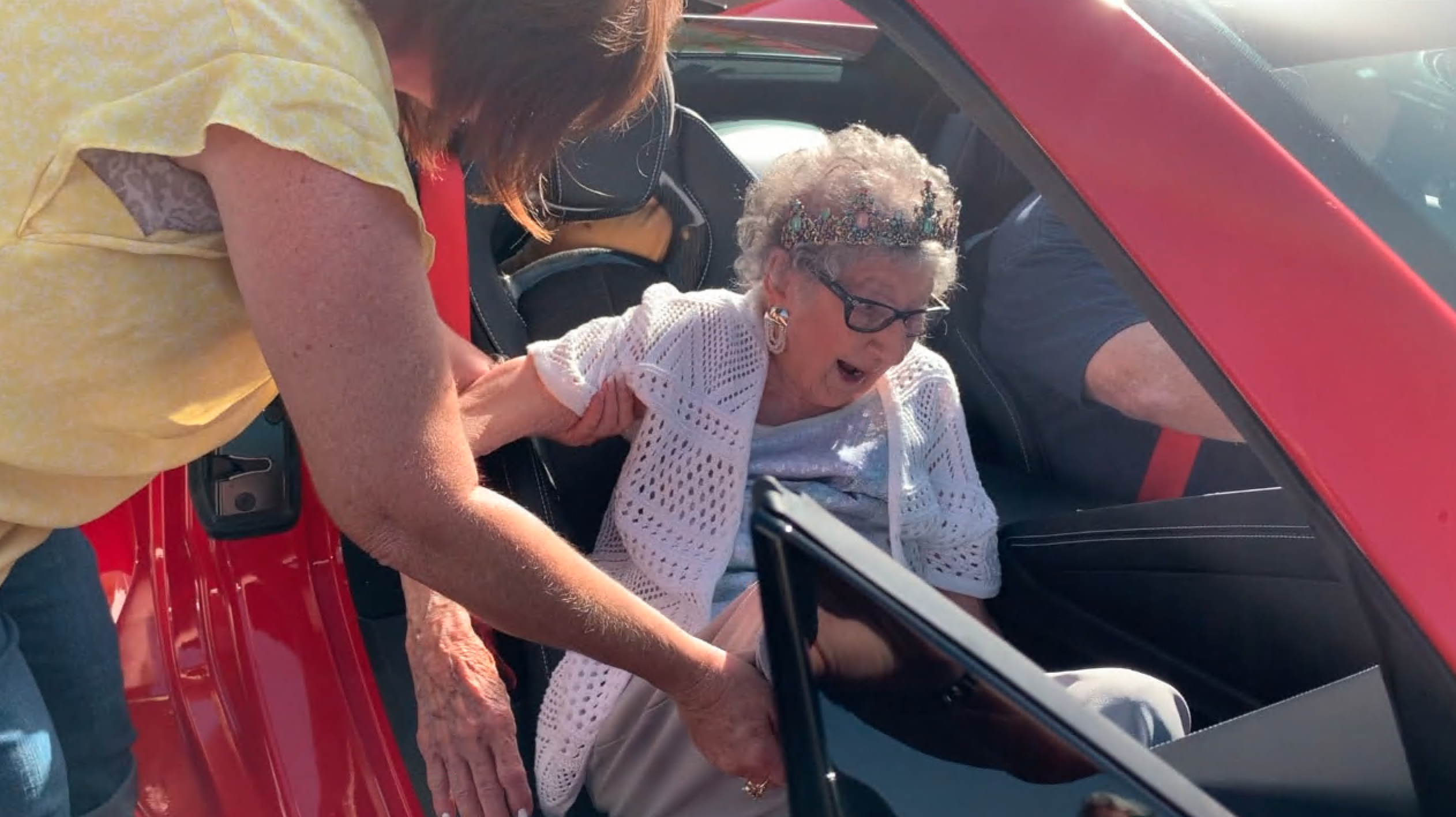 "She wanted to go fast," said Jim with a laugh when they finished.
"She's a wonderful little lady we just love her," said one neighbor through tears.
"Just proud of her, she's a maverick, she's a maverick," said another.
"I'm a bit shaken up, it's been quite a day," said Audrey. "Thank you everyone so much. My heart is definitely full."
Source: abc15