1962 was a special year for the Corvette. America's sports car's first generation was just starting to take shape prior to moving into its next generation for the 1963 model year.
---
Although the body was largely carried over from 1961, the year that gave every following generation until 2014 its taillight design, 1962 did make its mark on the Corvette with the largest most powerful engine up to that point. The iconic fuel-injected 327-cid engine made an incredible 360-horsepower, decorating the 1962 Corvette as the fastest of the first-generation. Unfortunately, nearly everything else about the Corvette was changed the following year and with the new design 1962's wrap-around windshield and convertible-only body style, trunk-lid and exposed headlights, and solid rear axle were all left behind. But hey, that is what makes the 1962 year model so special. Well that and the fact that it is arguably one of the sharpest looking Corvettes ever made.
After three more generations spanning 35-years, the Corvette had changed a lot to say the least but what hadn't changed was that GM was still using the model to innovate. This led to the development of probably one of the most influential engines ever. The LS1 engine was a game changer and so was all of the other drivetrain and suspension components that came with it.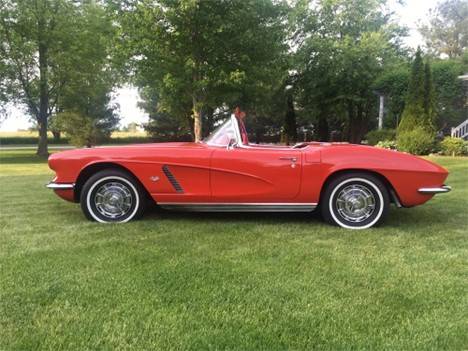 When you throw a few aftermarket parts, there's really no comparing the old to the new when it comes to performance and ride quality. Using the best of both worlds, this vintage Corvette is powered by a LS1, which is equipped with Z06 heads, and backed by a Tremec 5-speed manual transmission. It gets stopping power from disc brakes, and comes with a top of uninstalled parts, like the original powertrain. See the Roman Red Corvette here.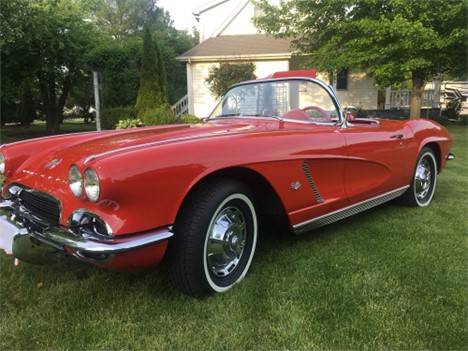 The Lakeland Fall Collector Car Auction takes center stage at the SUN 'n FUN Expo Campus in Lakeland, Florida on Friday and Saturday, November 11-12. This auction only event (no car show or swap meet) starts at 10:30 a.m. each day and welcomes 400+ lots spanning automotive history. Past, present, and future classics will cross the block and the variety of options makes the auction a very diverse offering. Lots span decades and will sell from four figures to six, offering white glove, best of show options as well as show-worthy daily drivers. There's even an All-Truck Hour planned for approximately 1:30 p.m. on November 11. Call Carlisle Auctions today at 717-960-6400 to learn more about buying or selling and visit CarlisleAuctions.com to check out images and info on many of the confirmed consignments! There are three great ways to bid too, in person, on the phone, and online! Not looking to buy or sell, but still want to attend? Spectator admission is just $10 with kids 12 and under FREE. There's also ample FREE parking available.