This Cobra is one of 50 made and has a period correct 289.
---
In the rich tapestry of American automotive history, the 1964 Shelby CSX Cobra FIA holds a revered place. This iconic vehicle, resplendent in its Viking Blue coat and Arctic White roundels, was a dominant force in racing during its heyday. To commemorate its 50th anniversary, Shelby American introduced a limited run of 50 Continuation Series models. Located in Westbrook, CT, and priced at $169,900, one of these tribute models offers automotive enthusiasts a unique chance to own a piece of history.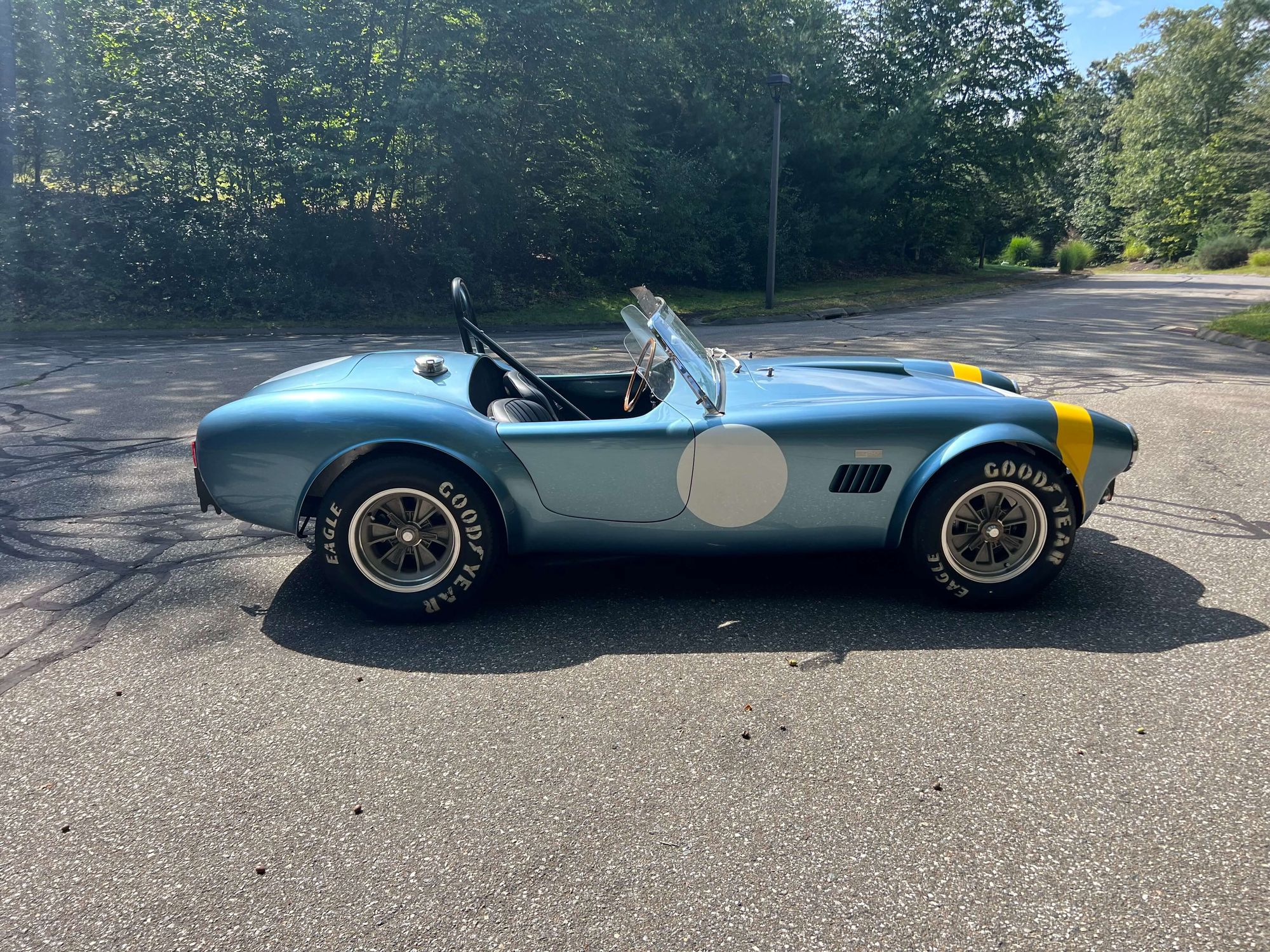 The fiberglass body of this modern-day tribute glistens in Viking Blue, accented by bold yellow team striping across its nose. Its vented fenders are adorned with contemporary billet badges, a tasteful nod to modern aesthetics, while Arctic White roundels pay homage to its racing pedigree. The 15-inch aluminum Halibrand-style wheels come with iconic spinner caps and are wrapped in the coveted Goodyear Billboard EAGLE tires, capturing the essence of the 1960s in rubber and metal.
Inside the car, the dual black bucket seats perfectly match the dash and carpeting, offering a vintage yet comfortable driving experience. The cockpit includes door map pockets and sun visors for added convenience, while a detachable wood-rimmed steering wheel bearing the FIA Cobra emblem serves as a constant reminder of the vehicle's racing roots. Stewart Warner gauges, featuring everything from a 160-mph speedometer to oil pressure and fuel level indicators, offer a quick look at the car's vitals. A special dash plaque identifies this vehicle as CSX7960, the 11th in a 50-unit production run, and with only 250 miles on the odometer, it's nearly as fresh as its ancestors from half a century ago.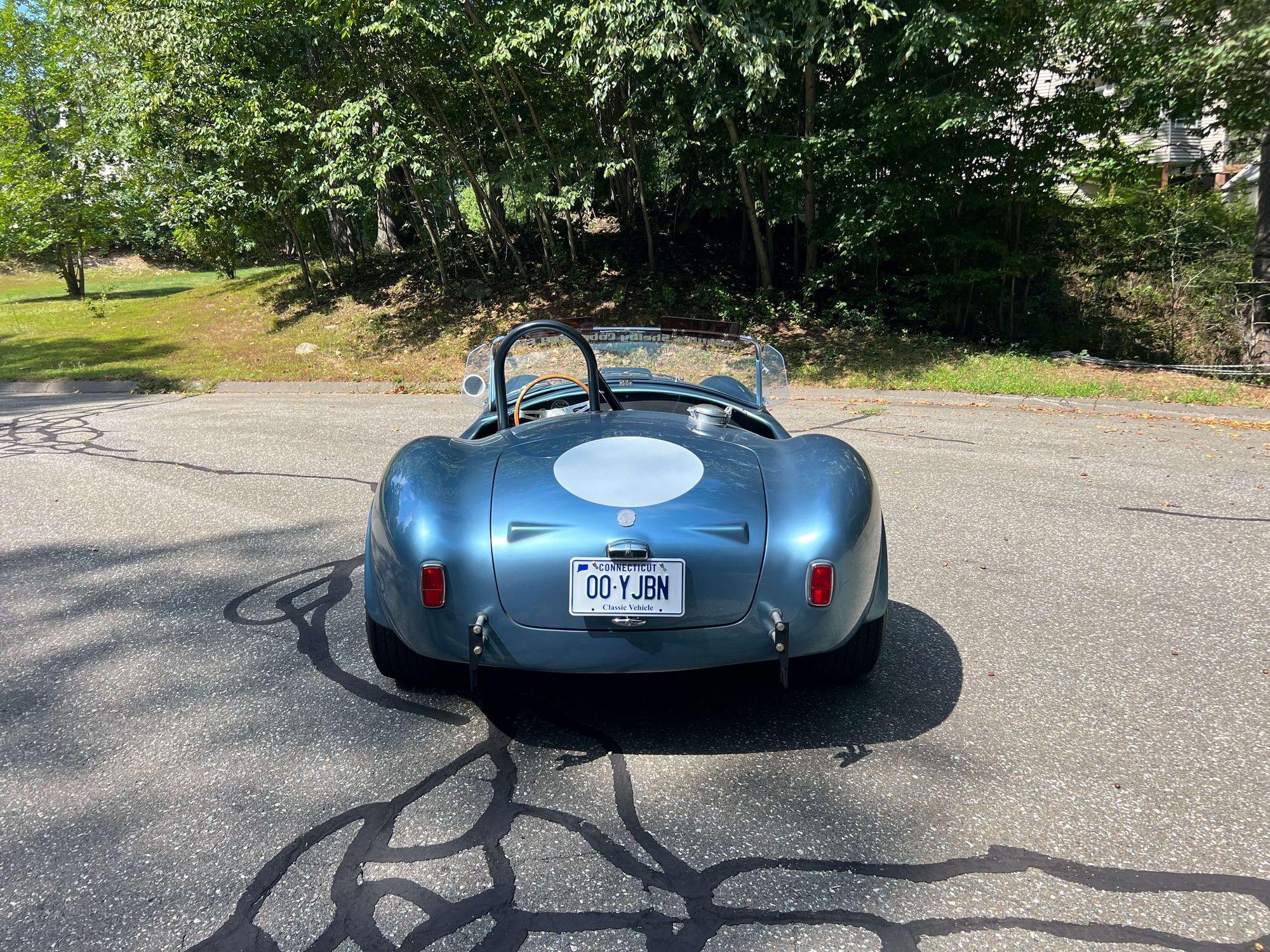 Under the hood lies a period-correct Ford 289ci V8 engine, complete with Weber 8 stack fuel injection, providing a nod to the late '60s models that pushed the boundaries of speed and power. The car is equipped with a floor-shifted Tremec five-speed manual transmission, sending power to the rear wheels and promising an unfiltered driving experience. It rests on a robust three-inch steel frame, and its independent front and rear suspensions are engineered for performance. Stopping power comes courtesy of dual-piston Shelby-branded calipers, offering both safety and performance.
This 1964 Shelby CSX Cobra FIA Continuation is more than just a car; it's a mobile tribute to an era, a snapshot of American racing history that captivated audiences worldwide. Each of these 50 models is a unique testament to that time, stamped with individual Shelby-issued CSX serial numbers and a range of stripe colors selected by their owners. To sit in its driver's seat is to be transported back to a time when legends like Bondurant, Miles, Gurney, and Hill made racing not just a competition, but a spectacle. With a mere 250 miles logged, this vehicle invites its future owner to contribute to its enduring legacy, and in doing so, history itself seems to roar back to life.
Stephen Becker has decades of experience with Ford, GM and Mopar vehicles. If you have one to sell, he has a great network of buyers and insider connections to convert your car into cash. Please call Stephen directly at 770-900-5532.