Only 290 were built in rare Cascade Green and this example was driven by Jerry Seinfeld in "Comedians in Cars Getting Coffee" with Jimmy Fallon.
---
One of the greatest barn finds in history happened just five years ago as 36 Corvettes were discovered in a New York City garage after sitting for about 30 years. There was a model year Corvette from each year ranging from 1953 to 1989, and the cars were covered in layers of dust, grime, bird droppings, brake dust, and other debris atop their once-pristine bodies. One of those cars rescued from the dire situation was this rare 1956 Chevrolet Corvette, just 1 of 290 finished in the factory hue of Cascade Green. Even better, there is a chance that this beauty could end up in your garage thanks to Corvette Heroes.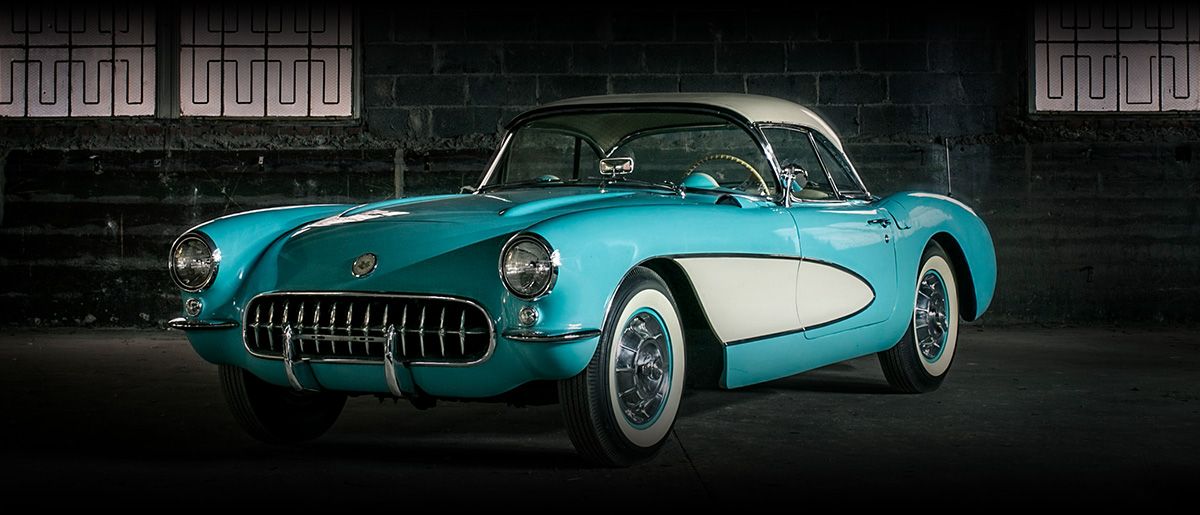 We will get back to that beautiful 1956 Chevy Corvette shorty, but first here is a little backstory on how and why 36 Corvettes were left stashed in various Manhattan garages for 30 years.
Often referred to as the Peter Max Collection, he was a pop artist who wanted to use the Corvettes as canvases for a series of paintings. This project never even started so the cars sat in multiple parking garages around New York City since 1989. For three decades, these cars were left to deteriorate and collect dust and debris.
A representative for Max reached out to Scott Heller, a man who helped Max move these cars around the city to various parking garages. The question was then asked if Scott would be interested in purchasing the entire Corvette collection. Scott decided to run the idea past his two sons, Michael and Adam Heller, along with his cousin Peter Heller. Not only that, he sought out real estate associates Gary, Adam, and Fred Spindler about the offer.
After they discussed the possibility, the group then reached out to Chris Mazzilli, owner of Dream Car Restorations on Long Island (and Gotham Comedy Club). Known as one of the world's top experts and enthusiasts when it comes to Corvettes, they asked Chris what it would take to restore the 36-car collection back to tip-top shape. After reviewing each car and coming up with a list of what needed to be done along with a breakdown of the cost, they bit the bullet on the stash of vintage 'Vettes.
Instead of restoring with the intent to sell, they all agreed that they would create a national sweepstakes and give all of them away separately to 36 different winners to help a good cause. Each one of these Corvettes will be given away with proceeds from the "Greatest Corvette Barn Find In History" sweepstakes going to American military veterans through the National Guard Educational Foundation.
Back in 1989, the popular music channel VH1 where they decided they would hold a sweepstakes to fix up these Corvettes and then give them away in an attempt for more viewers. About two million people entered the contest and the lucky winner was a carpenter out of Long Island. Max the artist bought the whole collection from him to use for the artwork he never produced. Finally, the Corvette Heroes have saved these cars and are holding a similar sweepstakes but will award each car to a different winner. This also increases the odds for people entering the sweepstakes when there are 36 cars at stake, not just one person for an entire collection.
When Chris Mazzilli first stumbled across the 1956 Corvette, it was far from road-worthy. This '56 Corvette was brought back to life just enough for Jerry Seinfeld to drive it on an episode of "Comedians in Cars Getting Coffee" with Jimmy Fallon.
Chris and his team got back to working on the car after the Seinfeld episode, but things didn't prove to be so easy. After discovering water in the oil complete with metal shavings, a cracked block was plaguing this vintage 'Vette. Since the cracked engine was not original to the car, Chris decided to install a period-correct 265-cubic-inch V8 to bring this car back to its factory roots. Along with the replacement motor, a new wiring harness was also installed and the old and brittle wires were tossed out.
The paint was left untouched after a recent detail had the rare Cascade Green finish gleaming like new new. All of the chrome accents surrounding the 'Vette are also in great shape, and everything lines up perfectly. The doors open to a beautiful Beige interior that complements its stunning exterior color perfectly.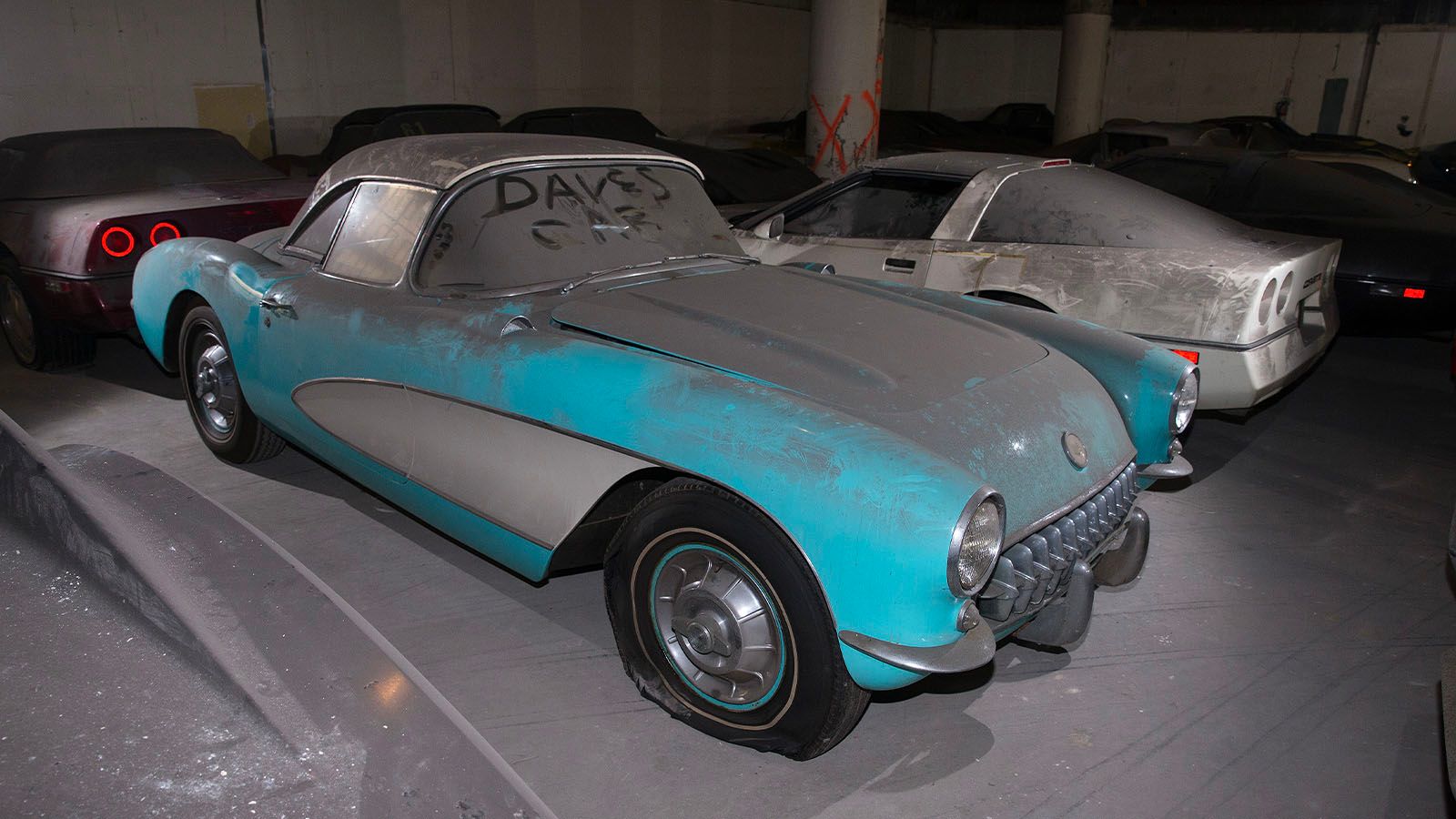 The History Channel is airing a special series about this story, and it is called "The Lost Corvettes". Not only will it go over the entire history of these cars, but it will show the restoration efforts by the Corvette Heroes. You can catch it on Saturday, September 21st at 10 p.m. What's ironic is that the CEO of Bungalow Media+Entertainment, Robert Friedman, was the man in charge of the 1989 VH1 giveaway of these same Corvettes, and he is now the executive producer of the new series documenting these cars.
If interested in entering the sweepstakes for this stunning 1956 Chevrolet Corvette in rare Cascade Green. Tickets are just $3 with deals on multiple, feel free to visit here with this promo code to make your donation and be entered to win this amazing piece of history. As mentioned above all proceeds go to helping American military veterans through the National Guard Education Foundation. To be eligible, you must be 18 or older.