How the long-awaited Viper engine-powered truck became the world's fastest production truck ever made.
---
In 1996, Dodge unveiled its plans to fit a Ram pickup with a Viper engine. Unfortunately, the project didn't come together as initially planned and the production of the concept never materialized. Coming up fast on the 10-year mark, Dodge's SRT division decided to revisit the idea of the Viper-powered truck. This time, an 8.3-liter V10 Viper engine would provide the full-size pickup with 500-horsepower at 5,600-rpm giving it a 60-mph acceleration capability of under 5-seconds and a ¼-mile time of just 13.7-seconds.
Exterior styling was not mild either. After extensive wind-tunnel testing, SRT developed an aerodynamics package that pushed the limits of what a truck was capable of. It featured a unique front bumper with an integrated splitter, an aggressive hood with a large single hood-scoop, a tonneau cover, and a rear wing, although the tonneau cover was not included on many of the trucks. This equated to less drag and better downforce at higher speeds. When paired with a custom performance-tuned suspension system this made the SRT-10 the most capable production truck ever made. A claim that was substantiated in July 2004 when NASCAR driver Brendan Gaughan took a Dodge Ram SRT-10 to 154.587-mph setting a world record for the fastest production truck ever made.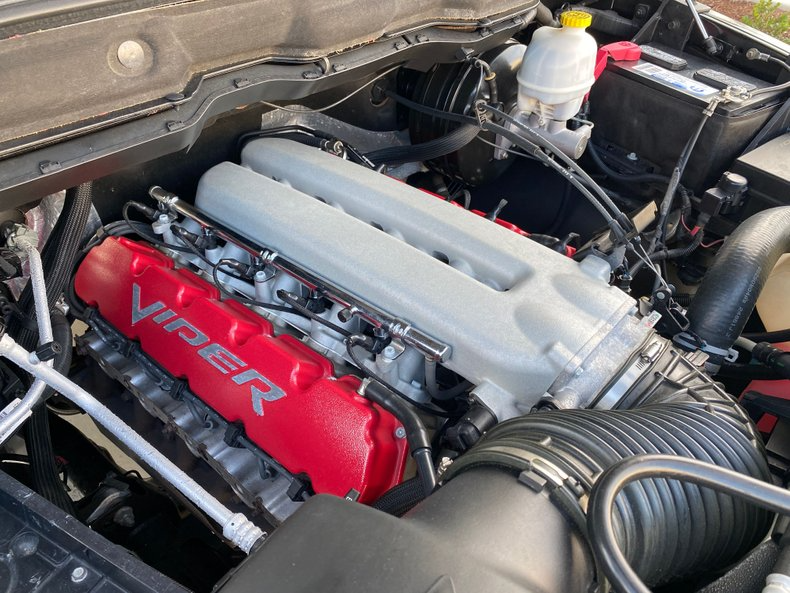 This 2005 example that is listed for sale on Awesome Joe Auctions is a Regular Cab version that is finished in Black Clearcoat over a slate gray interior. Under the hood, the formidable 8.3-liter V10 viper engine is connected to a 6-speed manual transmission. The truck rides on 22-inch polished wheels and is accompanied by all of the keys, remotes, window stickers, and maintenance records. With just 9k-miles and virtually no wear showing, this awesome truck would make a great addition to any collection. For more information on this truck or how you can register to place your bid click here.