Your next adventure awaits.
---
If you're an off-road enthusiast that also enjoys riding in luxury, then this 2016 Mercedes-Benz G550 4MATIC may be right up your alley. When it comes to the totem pole of off-road Sport Utility Vehicles, the Mercedes G-Class sits at the very top. This rugged beauty is currently up for bids through Awesome Joe's Auctions with a current bid of $43,000 with 15 days left.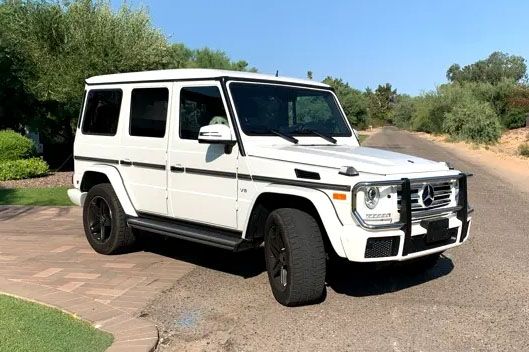 Finished in a beautiful white pearl paint, the exterior appears to be in excellent condition. According to the description, this SUV has spent most of its life in warm, sunny Florida and has never seen snow. This would be the ideal SUV to take on an outside adventure with family and friends to tackle the road less traveled while everyone sits in luxury and comfort. With only 27,456 miles on the clock, there is plenty of life left in this truck to take on countless excursions.
Powered by a twin-turbocharged 4.0-liter V8 SOHC 24V engine that generates a healthy 416-horsepower and 450 lb/ft of torque, the Mercedes G-Wagon offers an incredible amount of power. An automatic transmission shifts power down to the wheels. In fact, it's the same engine that powers the AMG GT supercar. Equipped with three locking differentials, a ladder frame, a low-range transfer case, and all-wheel-drive, this SUV can conquer the trails with ease. Even more, this late-model G-Wagon can climb 100 percent grades. Open the doors to a black leather interior with white accents that is filled to the brim with creature comforts and technology.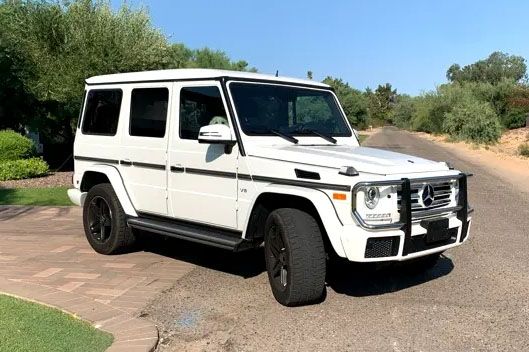 If you're in the market for one of the finest luxury vehicles that can go where most can't, then check out this tough 2016 Mercedes-Benz G-550 4MATIC with low miles. Make sure to register to bid through Awesome Joe's Auctions and start planning your next off-road outing.