This auction lot is for people who think a standard dune buggy isn't rugged enough.
---
There has been a recent movement to transform classic cars into jacked-up off-roaders and tack on the "safari" name for good measure, and if you can picture that happening to a vintage Meyers Manx, then you know exactly what to expect from this lime green dune buggy. Bruce Meyers designed the Meyers Manx in the '60s to be a street-legal dune buggy, but there's no way he could have imagined anything like this Meyers Manxter DualSport modified by Mendeola Motors, which looks ready to take on any Wrangler Rubicon.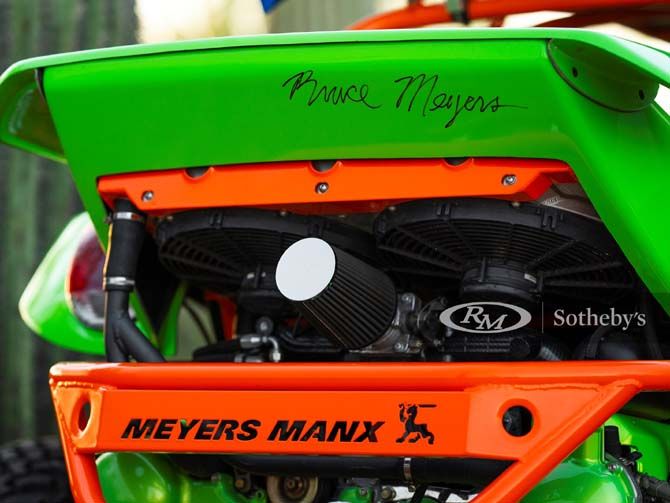 Whereas the Meyers Manx was created almost 80 years to combine the pleasures of driving an open air dune buggy with the conveniences of a street-legal vehicle, the Meyers Manxter DualSport was introduced about 20 years ago to deliver even better off-road capabilities. Sometime after this, Mendeola Motors came along to transform just four examples of the Manxter DualSport into full street-legal race buggies.
With the exception of the Corvair-powered Manx driven by Steve McQueen in The Thomas Crown Affair, the Meyers Manx buggies used VW engines, but this one has been modified with a fuel-injected Subaru boxer engine rated at 330 horsepower. With that kind of power and amazing long-travel suspension, this rear-drive buggy is ready to traverse any terrain.
Tucked inside that brightly colored roll cage, is seating for four occupants who are strapped in by four-point racing harnesses, and a roof-mounted spare tire and high-lift jack are there if those meaty 31x10.50 get into any trouble. There's also a winch up front just in case you come across a new Ford Bronco that got stuck in the sand, and, as the cherry on top, this buggy's spoiler has been signed by Mr. Bruce Meyers himself.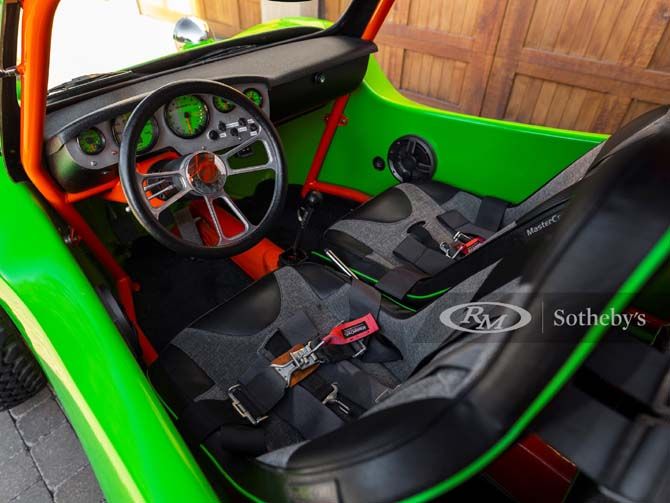 This modified Meyers Manx will be up for grabs at RM Sotheby's Open Roads North America online-only auction, which runs from July 23-30. If you're into off-roading, there's no doubt this is one of the must-see vehicles that will be featured in RM Sotheby's upcoming online-only auction.