It's heading to auction.
---
When passion, patriotism, and a penchant for speed come together, you get 'Wheelie'—a 1975 Ford F-250 restomod project born from the dreams of a former paratrooper. And as the nation gears up to salute its heroes on Veterans Day, the Las Vegas Convention Center will host this automotive gem, shining the spotlight on it via Mecum Auctions.
For Chris Leathem and his family, based in the serene backdrop of Palmer, Alaska, this truck isn't just a vehicle; it's a saga of dedication, love, and a truckload (pun intended) of dreams. Named after the Transformers character, Wheelie encapsulates the spirit of transformation: from a once 'bad Decepticon' to a 'good Autobot'. Much like the vehicle, Chris's own journey in the military, from perilous deployments in Iraq and Afghanistan with the U.S. Army's airborne units, represents resilience and transformation.
Inspired by the dazzling displays in automotive magazines during his deployments, Chris, with the support of his wife Jenn and son Colby, decided to take on a project. The aim? Create a truck that not just dominates county fair drag races but can still be your companion for a weekend drive. And so, began the Leathem family's mission to revamp a vintage F-250 into a street-savvy, sled-pulling powerhouse.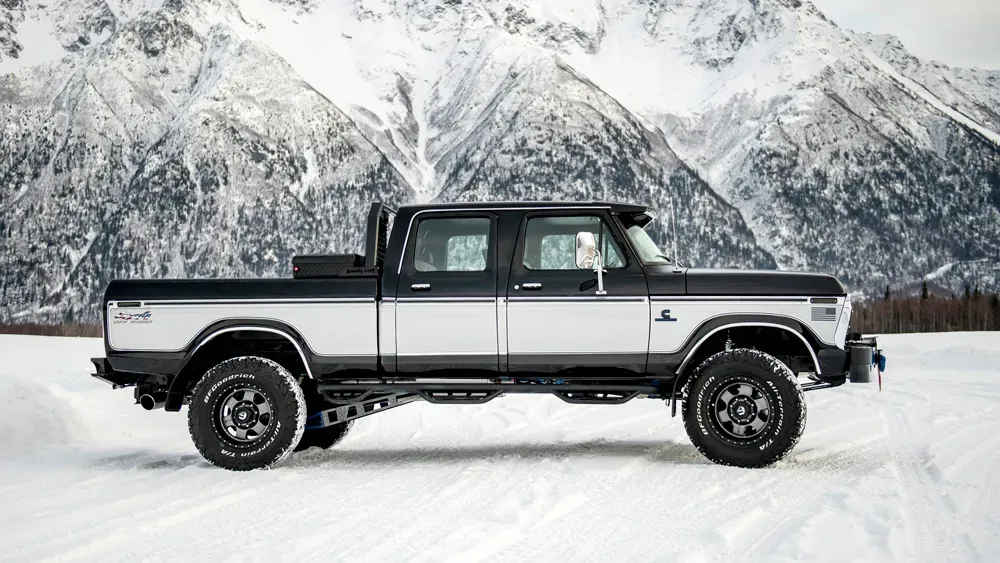 The numbers speak for Wheelie's unique charm. Originally one of the 2,123 F-250 crew cab short beds produced in 1975, the truck is now powered by a hefty 5.9-liter Cummins diesel engine, controlled by a six-speed manual transmission. But there's more to Wheelie than just raw power. From heavy-duty leaf springs sourced from the latest Fords, custom fuel tanks, to a frame that's been reinforced from end-to-end, every aspect of this restomod screams precision and durability.
Its color palette might be minimalistic, but Wheelie's exterior capabilities are anything but. Sporting custom bumpers fitted with 12,000-pound-rated winches and features to aid in heavy sled dragging, it's clear the Leathems left no stone unturned. And inside? A blend of comfort with Vintage Air cooling, modern Dakota Digital's gauges, and safety inclusions like the HornBlasters Outlaw Train Horn.
While Wheelie represents Chris's dedication and craft, its auctioning on Veterans Day is symbolic. As Chris put it, "Having our labor of love showcased on such a significant day is an honor." This Veterans Day, as the nation salutes its heroes, the spotlight will also shine on a paratrooper's dream, reminding us of the dedication, resilience, and transformative journeys our veterans embark upon.