This incredible specimen is ready for vintage racing or concours showing.
---
There have already been several noteworthy Ferraris auctioned off in 2020, but this 1971 Ferrari 365 GTB/4 Daytona Competizione might be one of the most historically significant examples to hit the auction block this year. Although just about all classic Ferrari racecars are significant in their own right, Ferrari 365 GTB/4 chassis no. 14065 is special because it's recognized as one of the most powerful Competizione-spec 365 GTB/4 racecars ever built. And this car will be up for grabs at RM Sotheby's upcoming SHIFT/Monterey online-only auction event.
Be sure to check out the video embedded below of this "brutally fast" Ferrari being driven at speed!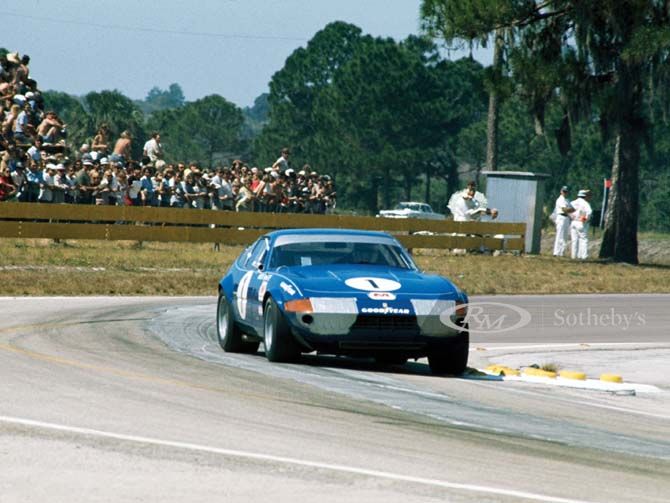 Ferrari had built just 15 Competizione Daytonas for its factory teams, and another 10 production Daytonas were modified to Competizione spec for privateer teams. Chassis no. 14065 is one of these privateer racecars, and it was originally delivered to a customer painted in Rosso Cordoba with a Beige Scuro leather interior. In preparation for the 1972 racing season, this Ferrari was acquired by Kirk F. White where it was transformed into a full-fledged racecar.
As if being a one-of-25 Ferrari racer wasn't good enough, this car was given further performance enhancements by Holman-Moody. This started with the removal of the factory V12 and replacing it with the engine from another 365 GTB/4 Daytona – the car driven by Dan Gurney and Brock Yates in the first-ever Cannonball Run – and modified with high-compression pistons, dry-sump lubrication and specialized tuning to the engine's timing and carburetion. In modified form, this engine laid down 450 horsepower making it the only privateer version of this car to offer that much power, and the Ferrari was further modified with an aluminum radiator, wider wheels and upgraded brakes pulled from a Mk IV Ford GT40 (12-inch rotors with four-piston calipers).
Sadly, in terms of its race provenance, the powerful engine proved to be too much for the factory car, and chassis no. 14065 suffered a DNF just three hours into the 1972 12 Hours of Sebring. It still stands as the fastest and most powerful competition Daytonas, and Ferrari Classiche certified this car as "a vehicle of historic interest."
Built by Ferrari and tuned by Holman-Moody, this historically significant 1971 Ferrari 365 GTB/4 Daytona Competizione is sure to draw some major attention when it goes up for auction at RM Sotheby's SHIFT/Monterey online-only auction event that runs August 14-15.