You'll never guess what the guy who built this does for a living.
---
We are big fans of the SEMA Show in Las Vegas, which thankfully is happening this year. There are not only all kinds of cool, innovative products shown off there, plenty of builders display amazing custom muscle cars and other vehicles. One from SEMA 2019 is this 625-horsepower widebody 1970 Ford Mustang. There's a video accompanying this article if you want to see it in action.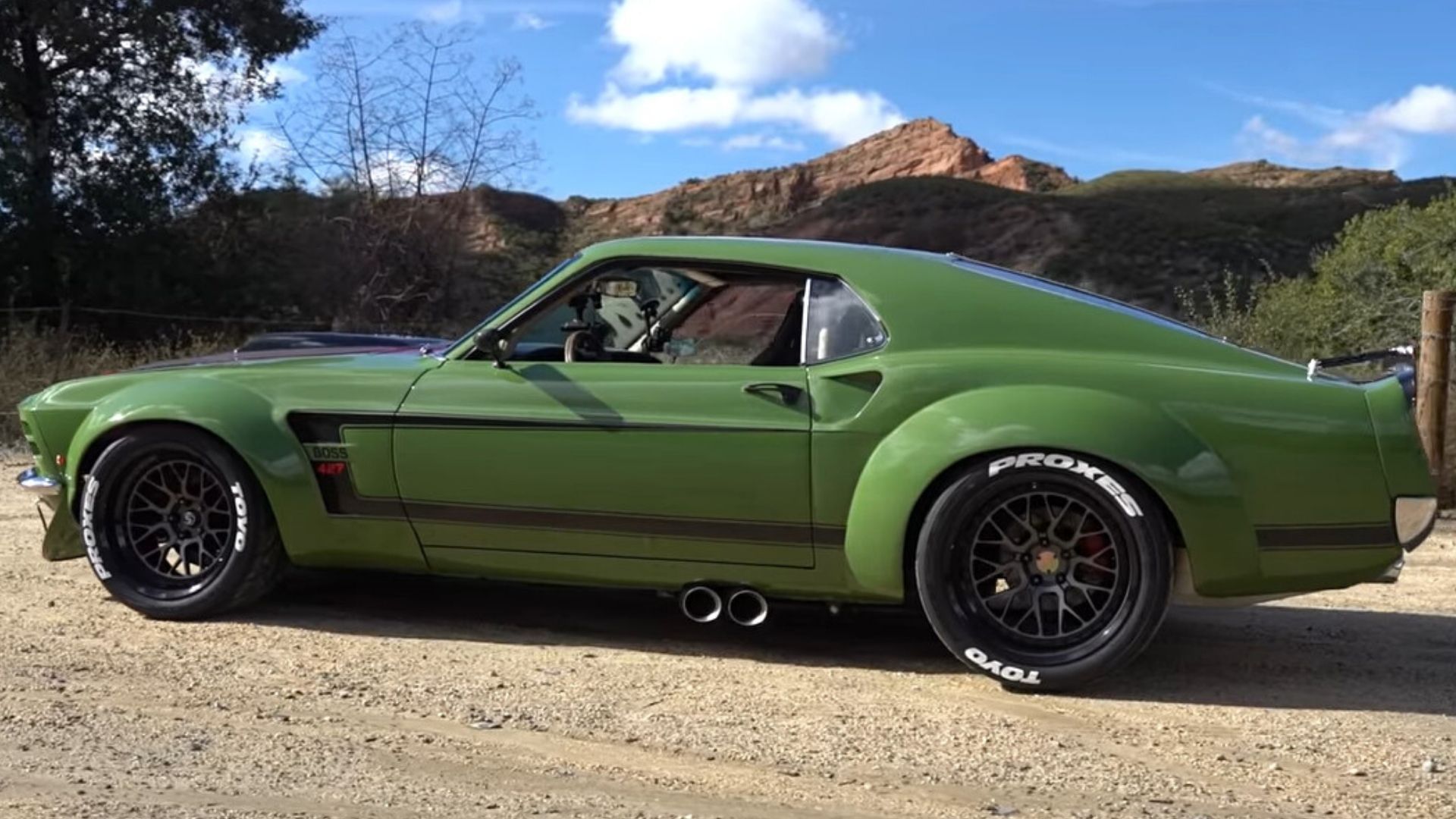 Upon first seeing the car from a distance, it would be easy and quite frankly forgivable for dismissing it as just a Mustang with a crazy body kit. However, as you get up close and can see the full custom roll cage, stripped-down interior, and other details, it becomes apparent there's something serious going on.
Those suspicions are absolutely confirmed once this widebody '70 Ford Mustang fires up, because it sounds mean as hell. That's thanks to an LS3 under the hood, which is enough to make the Ford faithful wither up and die. What's more, the scoops on the front fender extensions are functional. You'll notice the side-exit exhaust and the Boss 427 badges
The owner of this car, Chris Ashton, doesn't work in the auto industry. Shocked? The guy who looks like he could play Shaggy in a live action version of Scooby Doo works in the video game industry. He started off with a run-of-the-mill '70 Mustang he said was a decent driver but was certainly nothing special. The idea Ashton had was to build a Trans Am car for the street, which explains a lot of the mods.
Oh, and those fender flares aren't from a kit and they aren't made of some composite. They're all steel. Ashton kind of stumbled his way through it, but the end result is very nice. He wanted to get more tire on the car since he likes to do autocross and needs more lateral grip.