Porsche's original supercar is still a hot commodity.
RM trotted out a pretty impressive array of cars for its auction at Amelia Island on March 6 and 7. Amidst the classic Ferraris, Rolls-Royces, Duesenbergs, and Bugattis was a decidedly more modern yet definitely highly collectible car: this 1987 Porsche 959. The auction house estimated that when it rolled across the auction block the 80s supercar would fetch upwards of $1,250,000, a healthy sum for sure. Considering the way prices have been headed for these Porsches which were way ahead of their time, it was possible. When all was said and done, the car fetched a healthy $1,050,000.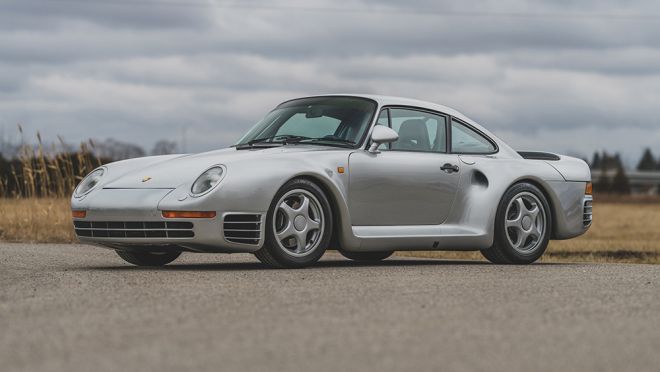 To the unschooled, a Porsche 959 looks like it's just a slightly morphed 911, leading to it not receiving proper respect. However, what's under the skin most definitely counts. The Germans used the tried-and-true 2.85-liter flat-six engine in the rear, combined with two turbos for a peak 450-horsepower. An aggressive six-speed transmission and all-wheel drive really maximize the potential of all that output.
Of course, even the body panels on this car were revolutionary for the time. Porsche made them out of various materials, including aluminum, polyurethane, and Kevlar. Most cars up to that point had bodies made of one material, so combining those was a challenge. On top of that, extensive wind tunnel testing led to an excellent drag coefficient of 0.31, which even by today's standards is great.
A well-documented history beginning with the car rolling off the lot at Porsche of Stuttgart, plus some nice factory options included, only sweeten the deal. Beyond that, this supercar went to Canepa Design for tasteful modifications, additions people who know 959s value greatly. Then there's the fact a mere 5,822 miles show on the speedometer, making this 80s dream almost like a new vehicle.
For many kids growing up in the 1980s, the Porsche 959 was a dream car. Many had a poster of it, if not also a Trapper Keeper emblazoned with photography of the German supercar. And now those children are adults with financial means, which has helped prices rise steadily in the past couple of decades. We're at the point now where $1,000,000 for a Porsche 959 doesn't even make people blink.
Photos credit: RM Sotheby's
More Porsches