Approximately 700 examples produced with this engine and transmission combination.
---
The 1957 model year was one of the rarer ones for Chevrolet's flagship performance car with just 3,500 Corvettes produced total. In fact, this was the same year that GM introduced an optional fuel injection to top its small-block V8. One of the rarer models would be this C1 Fuelie with approximately 700 examples produced with the exact engine and transmission. Even better, this stunning 1957 Chevrolet Corvette Fuelie is being offered as part of the DriverSource's Spring Motoring Collection by Bring A Trailer. This car spent 15 years in a Houston collection in Texas, and it was recently acquired this year (2020) by the selling dealer.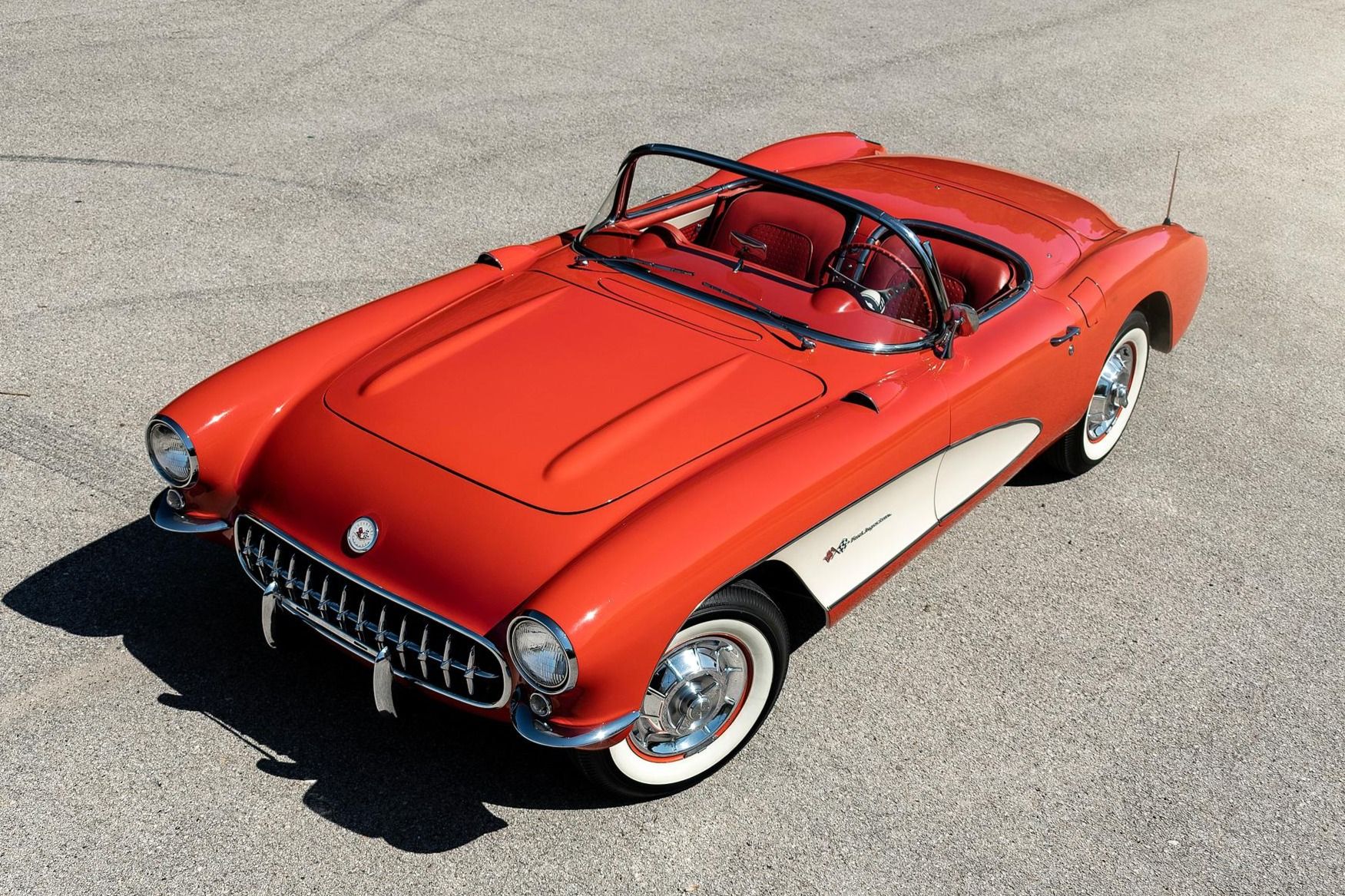 Finished in Venetian Red with beige coves (716), this classic Corvette was resprayed in its original hue back in the 1990s during a restoration. Since it has been decades since its refresh, the paint does feature some imperfections. Supposedly, this classic gem was delivered brand new without its soft top, and the hard top was lost sometime during its previous ownership. A set of color-matched 15-inch steel wheels adorned with chrome covers sit on all four corners and wear BFGoodrich Silvertown whitewall tires. Even a matching spare wheel with the same rubber can be found below the trunk floor accompanied by a factory jack.
Under the hood sits the original EL-code 283-cubic-inch V8 engine fed by the Rochester mechanical fuel injection system from the factory and capable of 283-horsepower. This fuel-injection system was rebuilt within the last few months by Ken Hansen of Medina, Tennessee. In the early-2000s, this V8 engine was supposedly refinished and resealed by Corvette Specialist Don Baker. Other work performed includes the installation of a new ignition coil and intake gaskets. Recently, the timing was adjusted, and it was given a fresh oil change. Shifting power is provided by a 4-speed manual transmission, which was an option available after May of 1957, and this gearbox features a build date of June 1963. The rear end was built back in 1960.
Peek inside to a matching bright red interior including the vinyl upholstery with textured seat inserts as well as the carpeting. A RetroSound radio is housed in the dash and plays songs through a rebuilt factory speaker. During its '90s restoration, the beige paint on the dash was reportedly left alone. The instrumentation includes a 140-mph speedometer, 6,000-rpm tachometer, water temperature, amps, and oil pressure. According to the five-digit odometer, the car has just over 53,000 miles.
Work performed on the car includes the replacement of the wiper motor. Earlier this year, a replacement windshield wiper motor was installed. In May 2012, the car received new wheel bearings, wheel cylinders, and a master brake cylinder. At that time, the drums were turned. In March 2020, new brake fluid was added. In November 2010, the heating and ventilation system was serviced by the selling dealer, and the steering column and turn signal system was serviced in 2016 along with a new tachometer cable.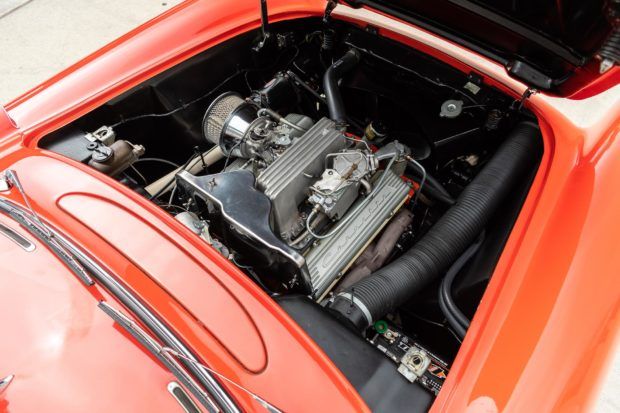 The sale of this car comes with the service records, factory manuals, and a clean title out of Texas. If interested, this incredible 1957 Chevrolet Corvette Fuelie is being offered as part of the DriverSource's Spring Motoring Collection by Bring A Trailer. With 5 days left of the online auction, the current bid sits at $50,000.
Read More Corvette News Here...