A luxury SUV with the soul of an off-roader.
---
Next year, Toyota will celebrate the 70th anniversary of its venerable, go-anywhere Land Cruiser, and while this name originated on a small military vehicle to compete against the Jeep, today the Land Cruiser has evolved into a full-size SUV. As you can see in the image below, the four-door Land Cruiser has definitely changed over the years, and while they now pack as much luxury and technology as a Lexus, they are still plenty capable of tackling off-road terrain offering the best of both worlds.
To find out just how rugged Toyota's flagship SUV is, we got to spend a week in this new 2020 Toyota Land Cruiser to enjoy it on-road and off! If you're  looking for a vintage example of this off-roader, click HERE to check out the inventory of classic Land Cruisers.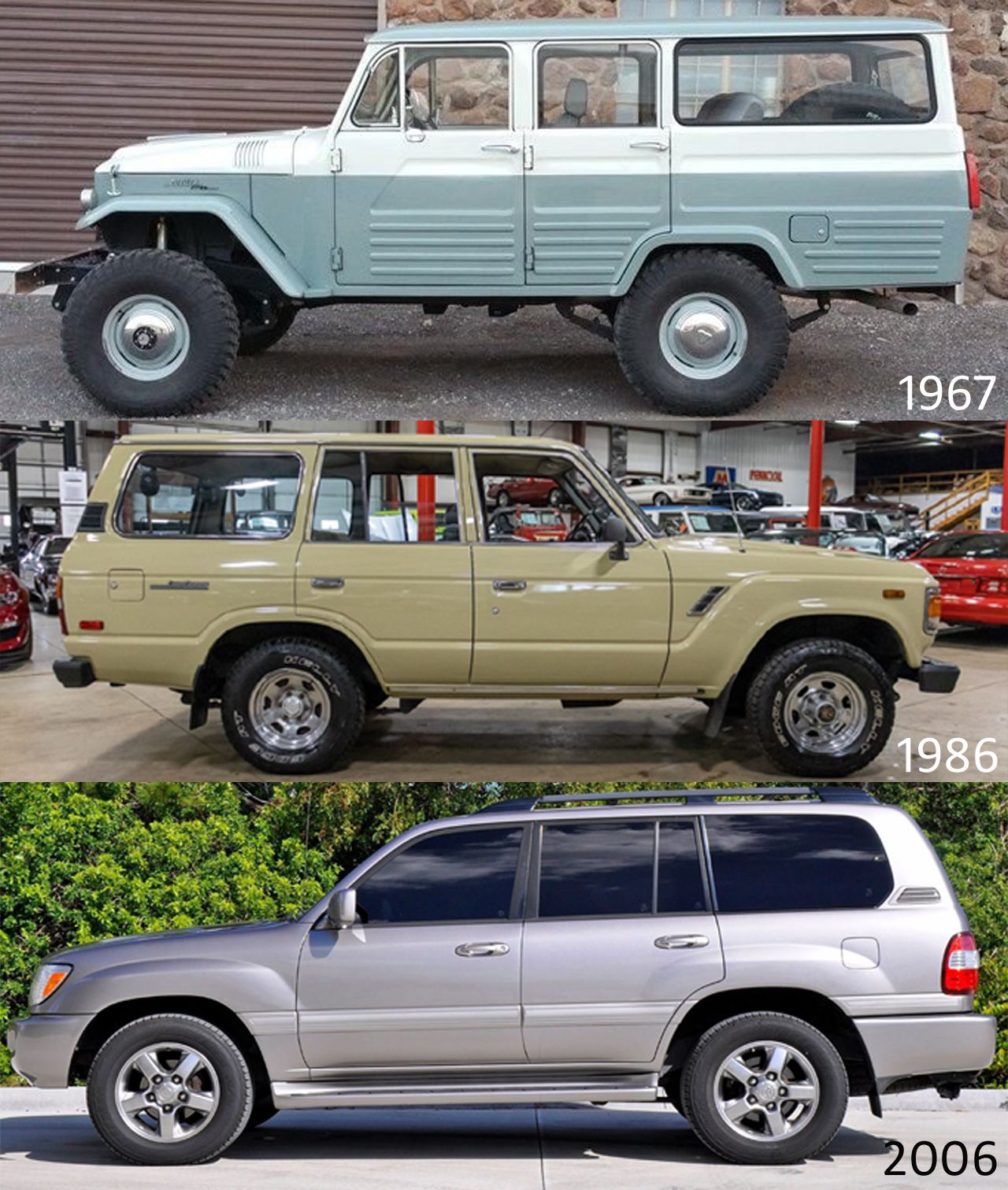 Following the end of production of the FJ40 and the FJ55 wagon, Toyota developed two different Land Cruisers for different markets: North America got the comfort-oriented J60 to go up against the Range Rover, while most other continents got the more rugged J70. While the latter is still in production to this day, our version of the Land Cruiser has evolved into a full-fledged luxury SUV that still has some serious off-road chops, although few of today's Land Cruisers will probably venture over anything more rugged than a gravel driveway to a ritzy Airbnb getaway tucked away in the woods.
Since most modern Land Cruisers will likely live a plush life as a daily commuter, the on-road suspension setup is about as smooth as such a big SUV can get. Whether it's being driven on long highway jaunts or traversing bumpy city streets, the 2020 Toyota Land Cruiser lives up to its name and is a smooth cruiser. When the pavement ends, though, features like Toyota's Crawl Control (sort of like cruise control for the trail) and the full-time four-wheel drive with a limited-slip center differential ensure that this SUV has all the traction it needs to get out of slippery situations including the loose sand we ventured into; it's not going to follow any Jeep Wranglers down rocky trails, but it will be able to drive further into the woods than a Cadillac Escalade thanks to 8.9 inches of ground clearance and the ability to ford through almost 28 inches of water.
All Land Cruisers are powered by a 5.7-liter V8 rated at 381 horsepower and 401 lb-ft of torque that provides plenty of acceleration and low-end grunt, and it delivers a 8,100-pound towing capacity, which is more than enough to haul a classic car to or from the auction. Chances are that if you're shopping for an SUV weighing almost three tons, fuel economy isn't playing into any purchase decisions, but if you care, this bad boy returns 13 mpg in the city and 17 mpg on the highway.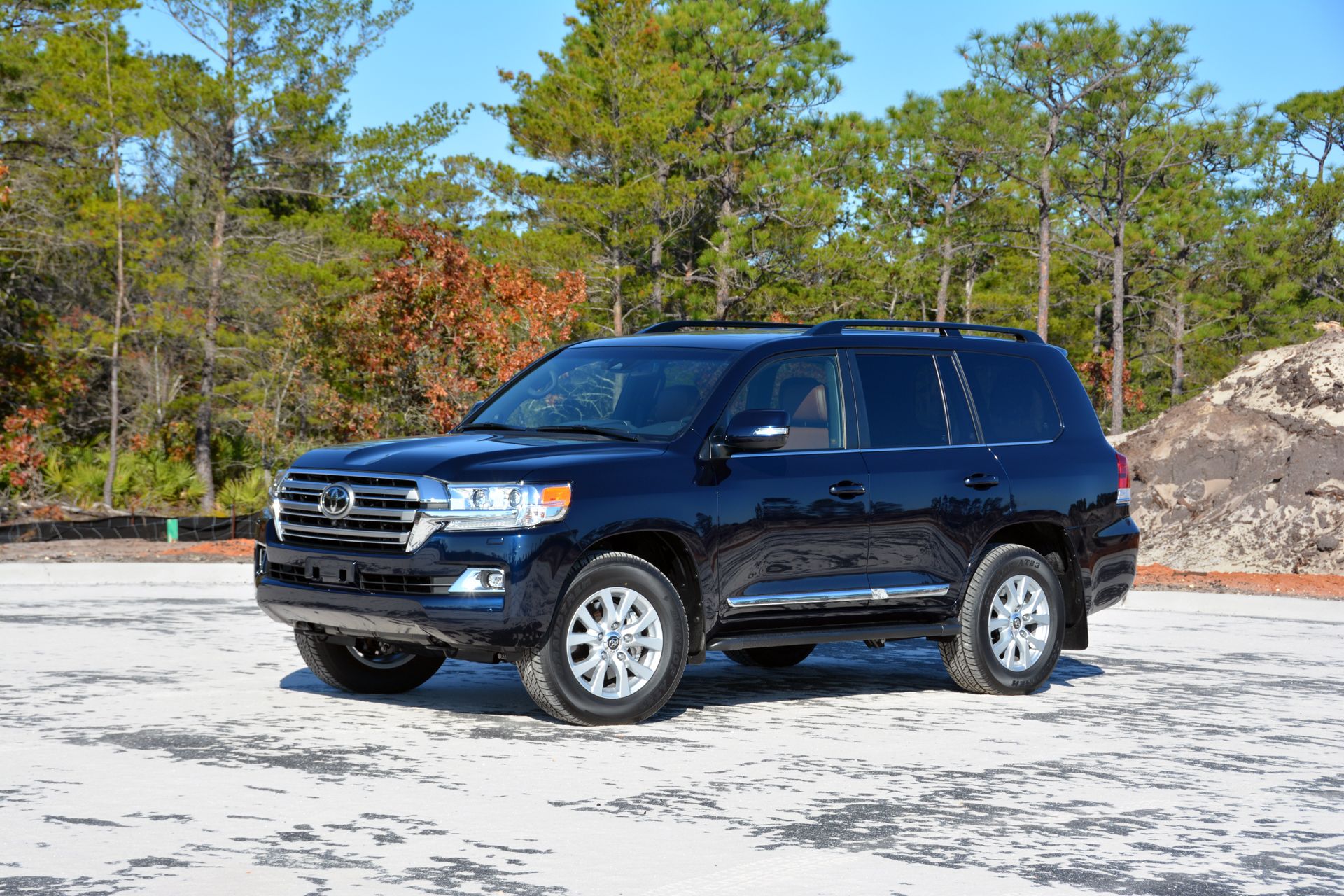 For the 2020 model year, the Land Cruiser does get a cool Heritage Edition model with gold wheels and retro badges, but sadly, this Land Cruiser we tested wasn't that model. The boxy lines hint at this Toyota's rugged capabilities, while the power dome hood hints at the torquey V8 under the hood. My favorite part about the Land Cruiser's design is that Toyota resisted the urge to put oversized wheels and low-profile tires on this SUV, which means there's plenty of ride height and give in the sidewalls for getting over obstacles. Another show of restraint in this design is the tasteful amount of shiny chrome, and this big Cruiser looked good in this Blue Onyx Pearl hue.
Compared to the Spartan interiors of the original namesake, the 2020 Toyota Land Cruiser is all about luxury. The one we tested came with saddle-colored perforated leather, and to keep back seat passengers quiet on long trips, it even had a $2,220 rear entertainment system. Aside from the rear movie screens, the Land Cruiser doesn't really offer any options, which means that the high-lux goodies like navigation, heated and cooled seats and heated steering wheel with stitched leather and wood accents are all standard equipment.
The interior is about as roomy as a Chevy Tahoe with three rows of seating to accommodate eight people, and thanks to that tall, flat roof, there is plenty of headroom no matter where you're sitting as well as more rear legroom than said Tahoe. While the third row provides plenty of room even for adult passengers, the fold-up design of the rearmost seats does limit maximum cargo capacity compared to similarly sized SUVs. The cool part, though, is the split liftgate that includes a fold-down tailgate, providing one extra place to sit and relax while enjoying the great outdoors... or waiting for soccer practice to end.
Options for a rugged three-row family vehicle are limited these days, so if you're looking for an SUV that can get you to grandmother's house with detours along the way, then the 2020 Toyota Land Cruiser is the way to go. Having the best of both worlds doesn't come cheap, though, as the 2020 Land Cruiser's starting price is a whopping $85,415. Tally up the options, and this behemoth rang in at a cool $89,000. The Land Cruiser's role – and price point – has changed quite a bit since this adventurous SUV first came to the U.S. in 1957, but along the way, this iconic nameplate has evolved into a big family-oriented vehicle ready for any adventure.